Portable 4G Vehicle Wi-Fi devices for Coach & Minibus - Designed & made in UK
Navstar automotive routers enable vehicle mobile network connectivity, passenger WiFi and vehicle tracking. Your vehicles fitted with Navstar On-Board become smart vehicles. While our suite of services offer additional services including 4G data plans, depot Wi-Fi, onboard systems integration, next stop announcements, and real-time passenger information.
Navstar WiFi is designed for automotive use. As a result they offer a perfect bus WiFi solution to connect passengers and onboard systems. There are options for built-in application servers and location tracking. Therefore, these options give Navstar WiFi systems the flexibility for any use scenario. Additionally, they are ideal for any size passenger vehicle. From taxis to buses, minibuses to the largest touring coaches, there is a Navstar bus WiFi solution.
Navstar Bus WiFi systems powered by BEAM are designed to be simple and cost-effective without compromising on features and capability. As a result, you get full-featured WiFi on your fleet of buses that deliver excellent performance.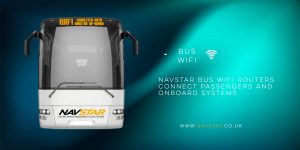 There are currently two models which perform different features.
The XPRESSi  – Ultra-compact automotive router offers out-of-the-box connectivity with minimal configuration. With 4G/LTE connectivity, Wi-Fi and GNSS/GPS the BEAM XPRESSi is an impressive internet and location tracking solution for vehicles
The iSERIES – The onboard Wi-Fi system to connect everything, Passenger Wi-Fi, Real-time passenger info, Infotainment & CCTV, Live vehicle tracking, Smart ticket machines and Smart ticketing & contactless payments
Also available through our parent company: https://www.wardair.co.uk/what-we-do/Beam/
Get connected today: 0191 487 4041
Email: info@wardair.co.uk